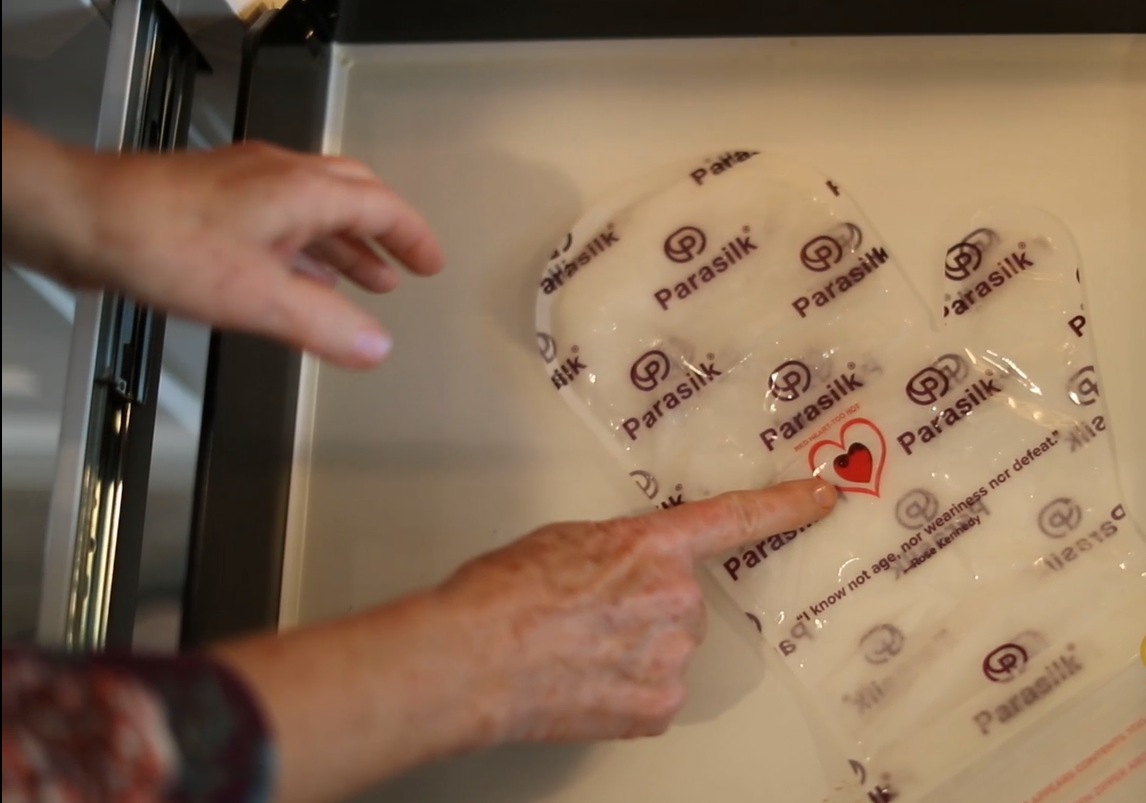 Turn Back the Clock With Parasilk's® Anti Aging Treatment
Who doesn't want softer, younger looking skin? Whether at work, in class, out with friends, or on a date night, your hands are on display all day, every day. We can be honest, wrinkly, dry or cracked skin can not only be painful, but it can be embarrassing. What can we do to turn back time and feel confident with smooth, youthful-looking skin again? Turn to the gLOVE Treat® with Parasilk® paraffin wax treatments. Our unique treatment and formula works to nourish and soften the dry or wrinkled skin of your hands or feet with our Parasilk® gloves, mitts, and boots. Simply slip on our gLOVE® Treat treatment to relax and relieve achy and stiff muscles, while turning back the clock in the process with our special age-defying formula.
Special Blend of Anti-Aging Goodness
We put the "love" in gLOVE® and the "Para" in Paraffin. Our Parasilk® blend starts with warm paraffin wax. Paraffin wax is a natural emollient, meaning that it works to lock in the natural moisture already held in your hands and feet by supporting your skin's natural lipid barrier. When this barrier is supported, your skin's moisture is kept in, and natural irritants that your skin is exposed to in your everyday environments like soaps and chemicals are kept out. Keeping your skin regularly moisturized and hydrated aids in clearing up those dry cuticles and cracks leaving you with a beautiful, youthful appearance.
Our formula is packed with super oil ingredients like marula, argan, and grapeseed oils. These oils are known to reduce the appearance of fine lines and wrinkles, while soothing and nourishing your skin with their rich antioxidants and vitamins C and E. These oils are also known to hydrate your skin, boost elasticity, and treat stretch marks and scarring.    
How Does it Work and How Can it Help?
Now that we know what's in our Parasilk® formula, let's talk about how it can help, and how it's the only anti-aging solution you'll need in your regular beauty routine. Our formulas blend of anti-aging goodness is paired with extra-soothing ingredients like organic cold pressed extra virgin coconut oil and lavender oil for a relaxing, rejuvenating experience. As a natural emollient, the paraffin wax in our Parasilk® formula will help restore the elasticity in your skin. Youthful skin appears taut and supple thanks to two proteins: collagen and elastin. These proteins give your skin its structure and allow it to bend and stretch without being damaged. Unfortunately, it comes with aging that our body naturally produces less and less of these proteins, causing the skin to feel loose and wrinkled. Our weekly self-care treatment will help promote the production of these proteins for a nourished and youthful look.
Don't Just Look Better, Feel Better.
Aging's physical effects on the skin can take a toll on its appearance, but it can be uncomfortable as well. When your skin loses moisture, obviously before long, it will become dry, leading to cracked skin, and cracked skin can be painful. While dehydration can certainly be a cause to your dry or cracked hands and feet, other contributors may be skin conditions that come with age such as psoriasis and arthritis. gLOVE Treat with Parasilk paraffin wax therapy treatment quickly rejuvenates and soothes sore hand or foot muscles and joints by bringing warmth while hydrating and moisturizing dry or rough skin. The heat as part of our formula is the soothing secret to not only anti-aging but pain relief as well. The heating component of our formula allows for increased blood flow leaving you feeling great. Supported circulation from our Parasilk® formula will also allow for an increased range of motion and that youthful feeling that will leave you wanting to take on the world again. Adding a gLOVE® Treat to your routine will leave you looking younger, feeling younger.
Keeping your age a secret starts with taking care of your hands and feet. Start your anti-aging journey with the therapeutic gLOVE® Treat gloves, boots, or mitts from Parasilk®. Just one ten minute treatment a week will help you to feel restored and rejuvenated, all while relaxing with our soothing, luxurious formula. Our anti-aging formula will take on the challenges of your skin can face in the aging process including dryness, wrinkles, and disorders like psoriasis and arthritis. Make Parasilk's gLOVE® Treat part of your regular routine. Our subscription plan will send you one gLOVE® Treat product per month. Each treatment can be reused up to 4 times allowing a full months supply with just one pair. Check out our subscription page today to start noticing the anti-aging benefits of gLOVE® Treat with Parasilk® paraffin wax.