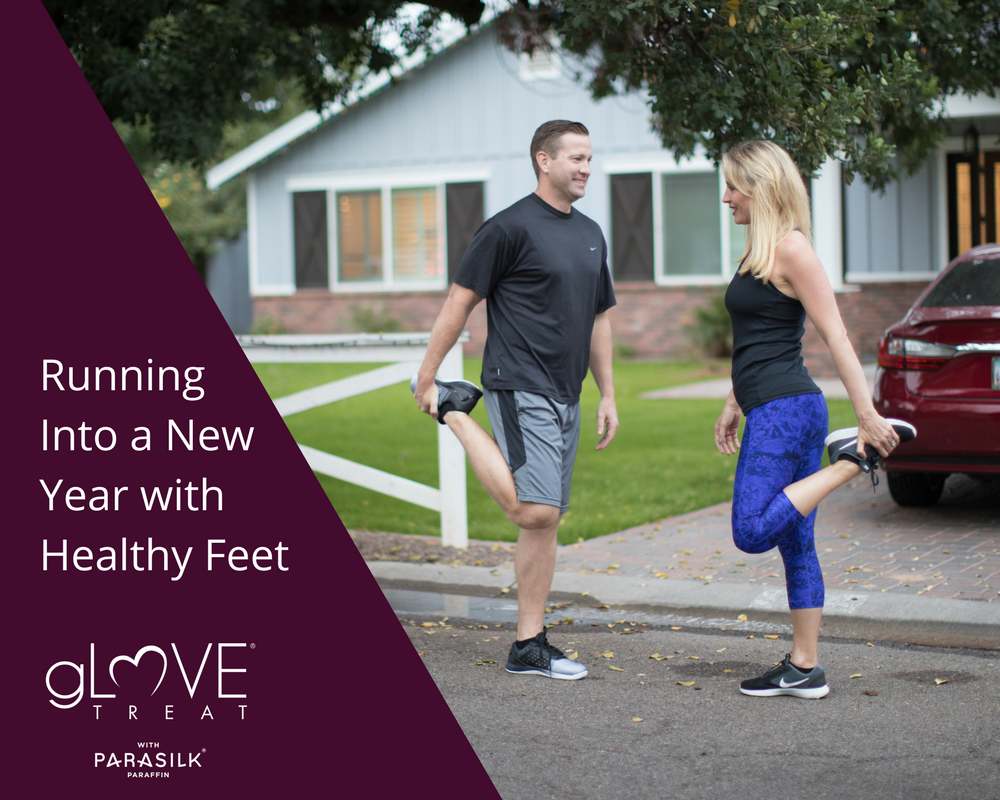 Running Into the New Year with Healthy Feet
Welcome to a new year of opportunities, possibilities, and goals! As we begin making good on resolutions, it's not a surprise that many of them are fitness-related.
In fact, Zen Planner reports that gyms they work with typically see an increase of up to 18% in their member base in January. Although the surge in New Year's fitness goals could include everything from team sports, to CrossFit and goat yoga, running is a favorite around gLOVE Treat's Arizona headquarters. Specifically, our Chief Operating Officer, Nate, is our go-to when it comes to all things running.   
Of course, new runners in Arizona have the beautiful January weather as an advantage, but that doesn't mean aspiring runners across the U.S. can't bring their running resolutions to life in January. Here's how to start your running goals off on the right track (or get them back on track, if it's been a while).
Environment of Choice
This one can be challenging for colder-climate runners during the winter when it's snowy, icy and brutally cold. For you, indoors may be your winter running option; even if that's the case, you can start planning (and dreaming!) of your warm-weather runs now. Those living in warm climates can begin testing outdoor runs to find your new favorite places to run (park, trail or street) and time of day. Just be cautious of your limits when starting out, and wear reflective clothing for outdoor runs in the dark.
Speaking of Gear
There's no shortage to the clothing and footwear options available to make sure you're suited up and ready to run. Make sure you put your best foot forward by opting for properly fitting and supportive shoes.
Buddy up
Some runners prefer going solo (56% of American runners, according to a 2016 Runner's World survey), but maybe you're part of the other 44% that prefers company. Whether it's a friend, local running group or even your dog, finding someone else to run with can be both fun and motivating.
Soundtrack for the Distance
Maybe it's your go-to inspirational playlist, or just time to catch up on your favorite podcast or new audiobook of choice. Either way, having the perfect soundtrack can be a critical part of running for some. Just make sure you're still aware of your surroundings, and not too caught up in your '80s rewind playlist!
Race to the Finish
Races come with a wide variety of lengths, themes, causes they support and locations. Signing up for one (within reason!) can be a great way to kickstart your new fitness interest, or to train toward for accountability.
Bust Through the Tough Days
No matter how much you embrace running, there will still be challenging days, whether it's a tough morning to get up and going, or progress has you discouraged. Plan in advance with running inspiration sources. Want quick tips? There's no shortage of other runners to follow on social media and blogs. Enjoy reading? Subscribe to a running magazine, or try book, like The Tao of Running, to stay engaged with your newfound passion. 
It's Not Just About the Run
Recovery is critical to keep your body healthy and ready for your next run. For example, runners and athletes of all levels can benefit from using gLOVE Treat's boots regularly to help soothe sore, achy feet and joints. Bonus: The combination of our Parasilk® formula paraffin wax blend and essential oils mean soft skin, and great ingredients for your body overall.
Happy running!