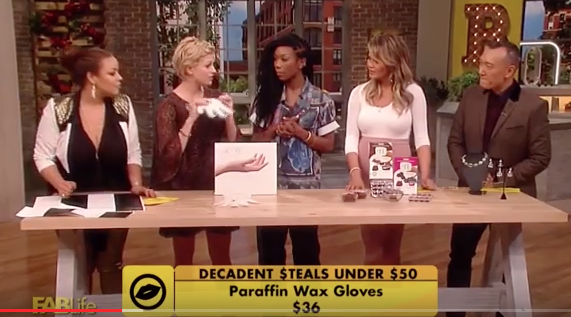 gLOVE treat named Decadent Steal by FABlife
The FABLife crew discovered how great gLOVE Treat is and recently featured it's FABulousness on a "Decadent Steals under $50" segment.  The ladies of FABlife agree that paraffin wax treatments are a splurge at salons, but gLOVE Treat's paraffin treatment that can be used four times at-home is revolutionizing this hand & foot treatment.  Simply microwave the gloves to warm the wax, when the heart shaped indicator turns black it's safe to put your hands in the wax, coconut and essential oil mixture then it's time to sit back and relax for 15 minutes. When time is up remove the gloves, rub in the oils and enjoy the rich moisturized feeling for days.
Since gLOVE Treat is affordable at only $36 and remember you get 4 treatments from each pair of gloves or foot treatments, at $9 a treatment we agree with the FABlife it's a decadent steal.  We say order a pair today from gLoveTreat.com to treat yourself. No muss. No Fuss.
gLOVE Treat featured on FABLife Daytime Television, January 2016
Chrissy Teigen:  It's all about guilt free decadence today on "FABLife," so we have some easy ways to add the glamour into your life we all know you deserve. These are decadent steals under $50.
Lauren Makk: Bring that cheddar, baby.
Chrissy: Lauren, what do you have for us?
Lauren: I'm so excited about this, because a lot of people think that interior design elements are very expensive. I'm excited to dispel this myth, so today, for you, I have these amazing personal pictures from Instagram that I sent online, by FrameBridge.
They framed them in over 25 different frames, several different matte options that you can do ‑‑ but that's not all, you guys. I have a two‑for‑one today, because I'm also going to show you this divine color wallpaper that is $29 a roll, and it is removable and reusable. How fantastic is that?
Lauren: I'm telling you, when I have clients that have rental properties, this is the way to go, guys. If you want something that's amazing, but still temporary, this is amazing. $39 for the frames, and $29 for the wallpaper.
Chrissy: That's awesome.
Joe Zee:  Wow, that's amazing. Reusable, too.
Lauren: Reusable!
Joe: I can take it with me when I move.
Chrissy: You guys know when you get a manicure, and they have these paraffin wax treatments?
Lauren: Yes.
Chrissy: But they can be really, really expensive. These are really cool. These are gloves. They're paraffin wax gloves, and they're by gLOVE Treatment. They're $36, you can get them online, but what's awesome about this is they're four uses out of this one glove.
You just throw these in the microwave for one to two minutes, heats up, stick your hand in there. This is a little velcro, so you just want to velcro it around your wrist so it gets all of the juices going. Sit with them for 15 minutes, and then rub them all over your hands. Then your hands are fabulous and moisturized, and you can do it four different times. What's 36 divided by four?
Lauren: I don't know.
Chrissy: What's that noise?
Chrissy: You know what that sound means, right? It's time for a FABLife freebie! Everyone in the audience is going home with their very own pair of gLOVE Treat gloves!
Brandy: Can I take these right here?
Chrissy: These are yours.
Joe: You can have those, Brandy.
Brandy: I'm part of the audience, too.
Chrissy: That's so awesome. Do we get those, too? I want some of those...
Leah Ashley: I don't know, Chrissy. I don't know.
Chrissy: Mine is actually way under the $50 maximum that we usually have. Mine is usually at $50.
Joe: $49.99.
Chrissy: I have a good one. Mine is six bucks, it's called Life Ice. It's actually some guilt‑free snacking, which I love. Obviously, I love to indulge in crazy, heavy things, but sometimes I just want the flavor of maybe chocolate, or some berries.
These are really great, because you take them. You take these little trays, and then you pop on the freezer, and they last up to a year or so. This flavor is mixed berry. You guys want to give them a try? Then we have a chocolate crunch one.
You freeze them up, and they just pop them out, and you snack on them. They come fully flavored, ready to go. It's such a nice little bite to have.
Lauren: That'd be good in a drink.
Leah: I was thinking the same thing.
Chrissy: You can put them in cocktails I love. One tray is actually 30 calories, six grams of sugar.
Joe: That's a blast. It's fun for kids, too.
Chrissy: It's fun for kids, fun for adults. It lasts a year in your freezer, although it would not last a year in my house, because it is delicious. There you go, some Life Ice.
Joe: I love it. Oh my god, that's so much fun.
Joe: Of course, I am obsessed with this month, because this month we are in the middle of heavy awards seasons. I love award seasons because you get to see amazing dresses on the red carpet, right?
Earlier this month we had the Golden globes, and I actually had the opportunity to be on the red carpet, and I interviewed these amazing actresses. One of my favorites, Leslie Mann, who's so funny. She was coming up to me, and the first thing I noticed was her necklace. Her necklace was so beautiful, and so pretty, but it was so unique, because every individual stone was completely different.
It wasn't a diamond necklace, it wasn't a ruby necklace. It was just individual stones, almost feeling vintage, in a way, and all linked together. Of course, the best thing is, she wore it backwards, which is the new trend of necklaces right now.
Brandy: Oh, that's beautiful.
Joe: Isn't that pretty?
Lauren: Leslie?
Joe: The new trend right now is to sort of wear the necklace and let it hang in the back, so it can accentuate the different aspect of your dress. What I love is this necklace, that you can actually have a little bit of red carpet glamour with something that you're wearing.
You may be wearing a simple black dress, maybe even a T‑shirt. You can just put this on, and have the inspiration of what Leslie's necklace was like. Of course, you can take a second necklace, hook it to the back, and actually mimic that look. Amazing, right?
Leah: Clever, Joe.
Lauren: Yeah.
Chrissy: Very red carpet.
Lauren: That actually goes with my outfit.
Joe: I may sell this. This is $38 at Sparklepop, which I love.
Of course, the other actress I had a chance to interview on the red carpet was Kate Winslet. Now, I've been a huge fan of hers because "Titanic" is actually one of my favorite movies of all time. Yours, too?
Lauren: Yes.
Joe: In the meantime, I was looking in her diamond earrings, thinking, "They're so beautiful, and they're so elegant, and so exquisite."
Chrissy: And expensive.
Lauren: That's right.
Chrissy: No, we got the same ones.
Joe: The bodyguard and insurance papers, yeah. Completely untouchable.
But the whole thing is, diamond earrings like that are great for the red carpet, but you can also find great substitutes that I love, actually, as an everyday accent. When you're wearing jeans and a T‑shirt, and maybe a blazer or something, and you throw this on, it immediately changes your look in a second.
I love these. These are actually also by Sparklepop, $30.
Chrissy: That's awesome.
Lauren: Nice.
Joe: You can actually have a bit of Kate Winslet glam in your everyday life.
Joe: Oh my gosh, I guess they did not play that sound by mistake. Clearly, you guys all love to hear that sound. Guess what? Everyone in our audience is getting their own FABLife freebie right now.
Joe: You're going to all have some red carpet glamour in your life, because you're all going home with a $40 gift card to Sparklepop.com!
Chrissy: I'm stealing them
Joe: And Brandy's stealing this.
Chrissy: Yeah, we got it for everybody.
Brandy: Please, darling.
Lauren: You have everything. You have the [inaudible 5:55], the necklace.
Brandy: I cleaned up. From the FABLife.
Chrissy: Check out these decadent, guilt‑free products, and where to get them, on our website, fablifeshow.com.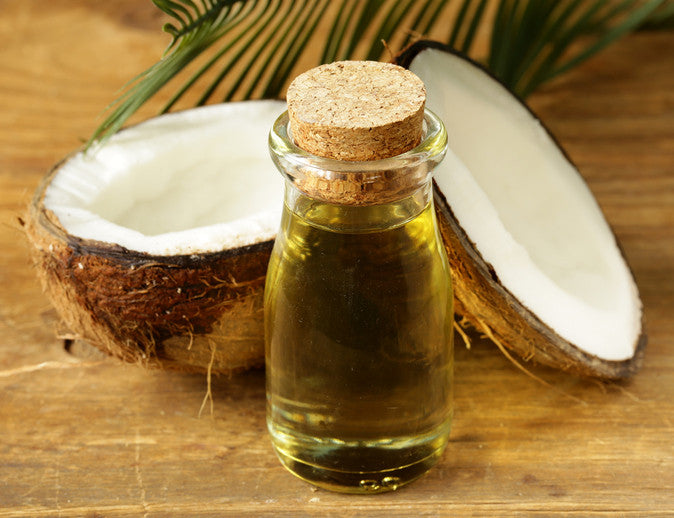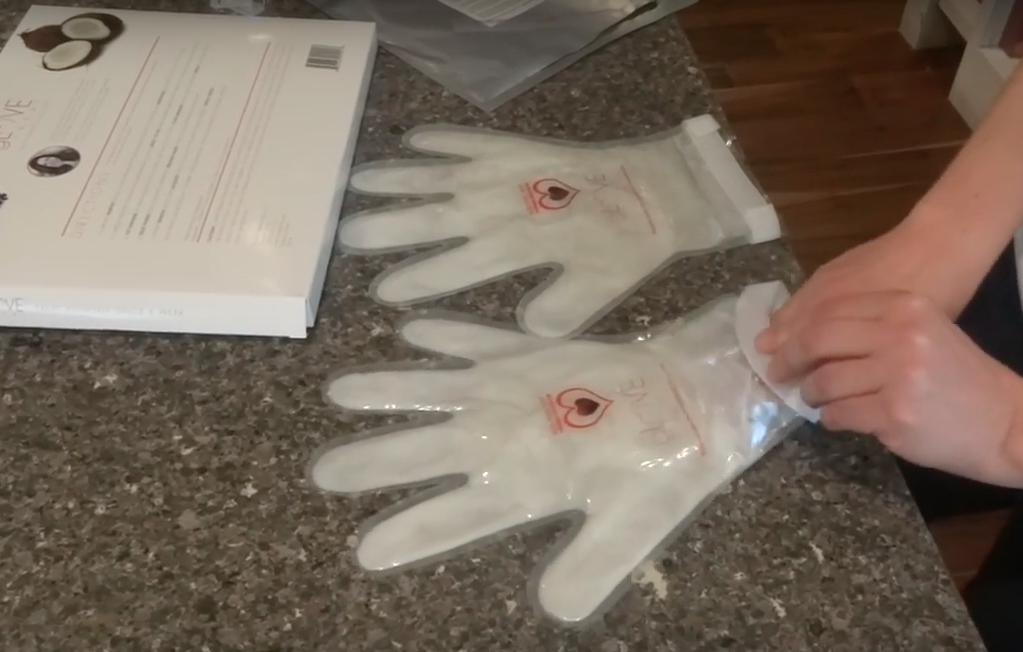 dry hands
gLOVE Treat Product Testimonial
Jen in Chicago, was looking for a great way to moisturize her dry hands after a long, cold Midwest winter.  Hands and skin dry out quickly in the cold, leaving our hands screaming for some TLC. Aft...
Read more